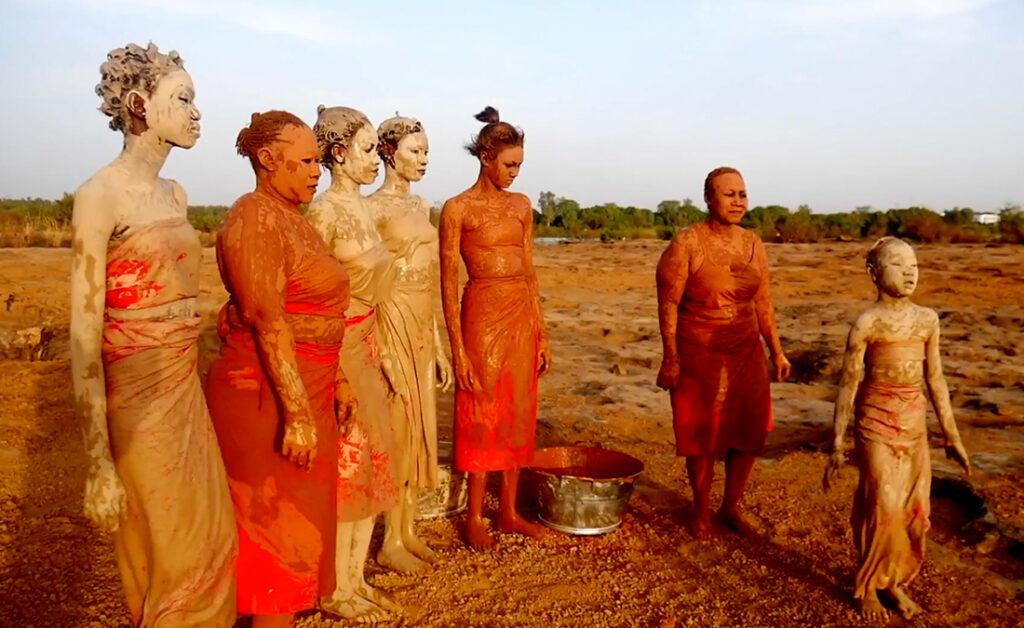 In the 3-channel installation next…II (Mali/Iceland), two dance artists in the diaspora enter into a dialogue through performative video letters; Charmene Pang and Kettly Noël. Kettly Noël, a Haitian, has built one of the most important dance centres in West Africa for over 20 years in Bamako. Charmene Pang, born in Geneva and raised in her Hong Kong family, dances in Erna Ómarsdóttir's company in Reykjavík.
For both of them, drastic changes in their lives are imminent, which they discuss artistically. Their stories are always closely related to the continent on which they currently live, its landscapes, soil, layers of earth and climatic conditions, which could hardly be more different: One country shrinking, the other expanding – Earth plates drifting apart and the desert displacing.
Movement, change of place and isolation. What does this mean for them and their relationship to the ground on which they move? What for their work as artists? What does the soil reveal about the land, and what does it say about its culture? And what structures do they offer to find each other in dance in a digital exchange across continents?
Directed /Choreographed by: Janne Gregor
Performer: Kettly Noël (Bamaco), Charmene Pang (Island)
Camera: Salimata Tapily (bamaco), Omra Harding (Island)
Music: Moritz Thorbecke basierend auf dem Song "Vex" von Sigrún mit Ngomi tracks von Yacouba Sissoko und Voicetracks von Sigrún
Editing: Lutz Gregor
Production management: Sina Kießling
Island location scout: Dísa Hulda Árnadóttir
Subtitle: Nora Amin, Anke Nehrig
Photo: Gregor
Duration: 52 min.